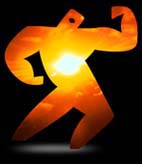 Are we done for, or what?

There's a lot we can do. But the truth is, you simply can't tackle it all. Nobody can. But if you pick your fights, and you commit yourself to the long haul, things can change. Because everything is connected. Healthy business, vibrant community, thriving planet. One step at a time.
That's BMG's vision. And we work at it every day. Not just by creating innovative strategies for the companies and organizations we represent, but in reaching out to create new partnerships with businesses that share the same vision.

Corporate ID In an age of mergers and acquisitions, health care organizations frequently face the need to change their names, and thereby develop new corporate identities. Also, as new services come on line, it becomes necessary to establish separate product line identities beneath the familiar corporate umbrella. Or sometimes, old corporate identities simply require updating. It?s all about keeping the brand promise to remain current and relevant to consumers.

CHILDBIRTH SERVICES ? Rehabilitation Medicine Perhaps one of the most difficult products to market is rehabilitation medicine. Like emergency medicine, rehab for most prospective customers lies in the future. The marketer?s job must be to establish top-of-mind awareness so that when the occasion arises, your institution is understood to be the first and best choice. View the campaign that sharpened the image of a premier rehabilitation hospital. ?